Test Automation Engineer (Nicosia, Cyprus)
Ref.
1485
Nicosia
Posted on 14/09/2018
We are looking for a motivated Test Automation Engineer to join our team. The position requires collaborating with the product managers and team members in order to meet strict deadlines. You will work closely with software developers and designers in relation to our product's specifications. You will be mainly working on automating testing for 3CX's mobile and desktop front-end client suite as well as our online multiparty video conferencing solution's front & back-end.
As a Test Automation Engineer, you will be responsible for creating automated test scripts, executing automated testing, reporting on automated test execution, and building testing tools and utilities. Test coverage will include, but not limited to, system, functional, and regression testing. You will be in charge of automating tests as needed for several small and medium sized products for completion of functional, unit, regression, or integration testing of developed features and functionality. Your testing will cover functional, performance, and load testing of various systems and applications in development and currently released. Contribution to manual testing efforts and test design as needed is also a possibility. You may be required to design effective SQL queries for checking and managing data during testing activities. You will track defects, provide analysis and reporting of test results, document QA procedures and practices, and produce documentation for all testing efforts, results, activities, data, logging, and tracking. No knowledge of specific testing tools is required, you'll be required to specify what tools you need and what you're used to working with.
About the 3CX Team
The successful candidate will be a part of our QA and development team and would take on tasks that would help 3CX continue its innovation in the Unified Communications/PBX market place. Our product is targeted at medium and large enterprises and is currently used by over 100,000 customers around the world.
Good to know:
Good understanding of the SIP protocol will be considered a huge plus.
Experience in Manual Testing.
Required:
A very good understanding of network communications (IPV6/IPV4, Protocols)
Previous experience with unit testing.
Previous experience with front and back-end automation.
Experience using Wireshark.
Experience using Appium, XCTest, UI Automator, Selenium or similar software.
Experience with automation on iOS and Android.
Experience with Android Studio (logcat and ADB).
Experience with jMeter or other similar software.
Experience with bash and powershell, python, nodeJs or other scripting languages.
Good knowledge of MySQL, Java/Jscript, ObjC/Swift.
Ability to describe issues in a concise way with good attention to detail.
Critical and analytical thinker.
Adaptable and flexible approach to work.
Must have at least 2+ years experience in QA.
Excellent written and verbal English communication skills.
Ability to work as part of a large or small team.
A good understanding of the software development life cycle, especially debugging and browser/platform compatibility testing.
A University degree or equivalent in IT will be considered an advantage.
How to Apply:
Please send your CV along with a cover letter explaining why are you interested in this role to jobs@3cx.com. State the position you are applying for in the subject line of your email, if you fail to do so your application will be disregarded.
Please note that only successful candidates will be contacted.
Apply Now (Send Your CV) Send Email to Employer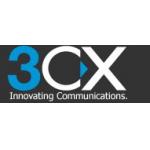 Contact Person
Cristina Portasa
Email: marketing@3cx.com
Phone: 22444032
Fax: 22444033
Website: www.3cx.com